MACH-Track
The MACH-Track program is a structured, mentored and fully funded career development pathway for exceptional research-minded health practitioners pursuing post-registration clinical training or career development in any of the ten health services affiliated to MACH.
About the program
The program seeks to develop the future leaders of clinical innovation by offering an opportunity to integrate pre-PhD, PhD and initial post-PhD research training with completion of vocational training of the highest standard. Bespoke and tailored towards the research direction of each successful candidate, MACH-Track is flexibly designed to adapt to any specialist college-accredited discipline.
"MACH-Track is an established program that allows promising health practitioners to integrate career development in research, including a PhD, with completion of postgraduate specialist or generalist training and clinical career development in their health discipline. This exciting scheme is a pilot for development of healthcare leaders that will ensure our nation has the research-active clinical innovators it needs to ensure a healthy future for all Australians."​

Professor Sir John Savill, MACH Executive Director
Please see an example program structure based on the 2024 cohort. Applications for the 2025 cohort will open in mid-2024:
Year 1 (2024): Pre-PhD (start year of the program) – 80% clinical (vocational/advanced) training / 20% PhD preparation
Years 2 – 4 (2025-2027): PhD scholarship – 80% PhD / 20% clinical role
Year 5 (2028): Post-PhD – 80% clinical (vocational/advanced) training / 20% preparation for post-doctoral fellowship application
Years 5+ (2029+): Same as Year 5 until completion of clinical (vocational/advanced) training and, ideally, a post-doctoral fellowship
Nine MACH-Track scholarships were awarded for the 2023 intake. These included doctors undertaking training in any Australian Medical Council recognised specialty including General Practice and Public Health. Additionally, three places were awarded to either nurses and midwives at Masters level working towards or at an advanced level of practice or physiotherapists working towards advanced practice.
There were additional opportunities for candidates with a specific interest in brain cancer research centered at WEHI and mechanisms of Parkinson's Disease centered at WEHI/RMH.
MACH-Track is open to Australian citizens and permanent residents who will be in-post as eligible registered health practitioners in one of the ten MACH-affiliated health services at the time of commencing MACH-Track. Note: if you have commenced or enrolled in a PhD, you will not be eligible for the MACH-Track program.
The following groups of practitioners are eligible:
Doctors in vocational training in any recognised specialty, including General Practice and Public Health. Applicants should have won a place (or anticipate doing so before February of the year of commencement) in a Melbourne-centred vocational training program approved by the relevant Royal/Specialist College; for specialties with two-stage programs (eg physicians) trainees should have secured a place in an advanced training program. The Track is supported by the leadership of all 19 MACH partners and by all Royal and Specialist Colleges approached so far. Once appointed each trainee will work with the MACH Office, clinical employers, and the relevant training committees of their Royal/Specialist College to craft a bespoke program that will ensure completion of an excellent clinical training pathway.

General Practice trainees will require sponsorship by the University of Melbourne Department of General Practice (see How to Apply and Selection Process below).
Public Health applicants must have a Master of Public Health and be anticipating a work role in a MACH-affiliated organisation in year of commencement.

Nurses and Midwives employed within a MACH-affiliated Health Service; who have or are completing a Masters degree in Nursing, Midwifery or other relevant subject such as Public Health; and are working with an advanced level of practice (for example, Clinical Nurse/Midwifery Consultant or Nurse Practitioner) and who aspire to Nurse/Midwife Clinician Researcher roles that combine specialist, advanced clinical practice with research leadership.
Physiotherapists working towards senior clinical roles within a MACH-affiliated Health Service. For example, many MACH-affiliated Health Services have roles for senior advanced practice physiotherapists (typically at Grade 3 or 4) and organise in-house training programs to prepare early career practitioners (typically at Grades 1 or 2); for example, Austin Health has senior, advanced practice clinical roles for physiotherapists in ICU, Orthopaedics and Rehabilitation.
While most applicants will be working currently to a full-time pattern, MACH-Track can accommodate practitioners working part-time (0.5FTE or above).
The selection committee will base its assessment on the letter of application, applicant career aspiration, CV and referee reports.
When applications open on 5th June 2023, they are to be sent
 to
[email protected]
and must include:
A letter of application no longer than 500 words explaining why the applicant wants to pursue PhD training through the MACH-Track; NB it is not necessary to express interest in any particular PhD project, but it would help if "all-comer" applicants could identify a general area of interest such as 'cancer research', 'big data', 'clinical trials', 'stroke rehabilitation' or any other broad area of research interest;
a) For Doctors, brief details of the candidate's vocational training program, with dates and location of each attachment; proposed end date; and details of the relevant College training committee including email contact for the lead College administrator;
b) For Nurses, Midwives and Physiotherapists (NMP), brief details of the plans to train for advanced practice;
Full CV, to include brief details of any research projects undertaken, with details as to how these were disseminated (report for supervisors, abstract presentation at meeting, publication, etc).
A brief letter of support from an academic referee able to comment on the candidate's potential for completing a PhD;
A brief letter from the candidate's current clinical career development supervisor confirming that the candidate is making satisfactory progress in clinical training and stating support for the candidate seeking flexibility in clinical training if appointed.
For General Practice trainees, a brief note from A/Prof Jo-Anne Manski-Nankervis (

[email protected]

) confirming sponsorship by the University of Melbourne Department of General Practice.
See Important Dates below for shortlisting, interviews, orientation and commencement schedule.
For further details regarding the MACH-Track pathway, eligibility and application process, refer to the MACH-Track Advert.
5th June 2023: Applications open
9am on 1st August 2023: Applications close
Late August 2023: Invitations sent out to shortlisted candidates for interviews
2nd October 2023: Interviews for shortlisted candidates (Doctors)
9th October 2023: Interviews for shortlisted candidates (Nurses, Midwives and Physiotherapists)
13th – 17th November 2023: Orientation Week
February 2024: Successful applicants to start their MACH-Track journey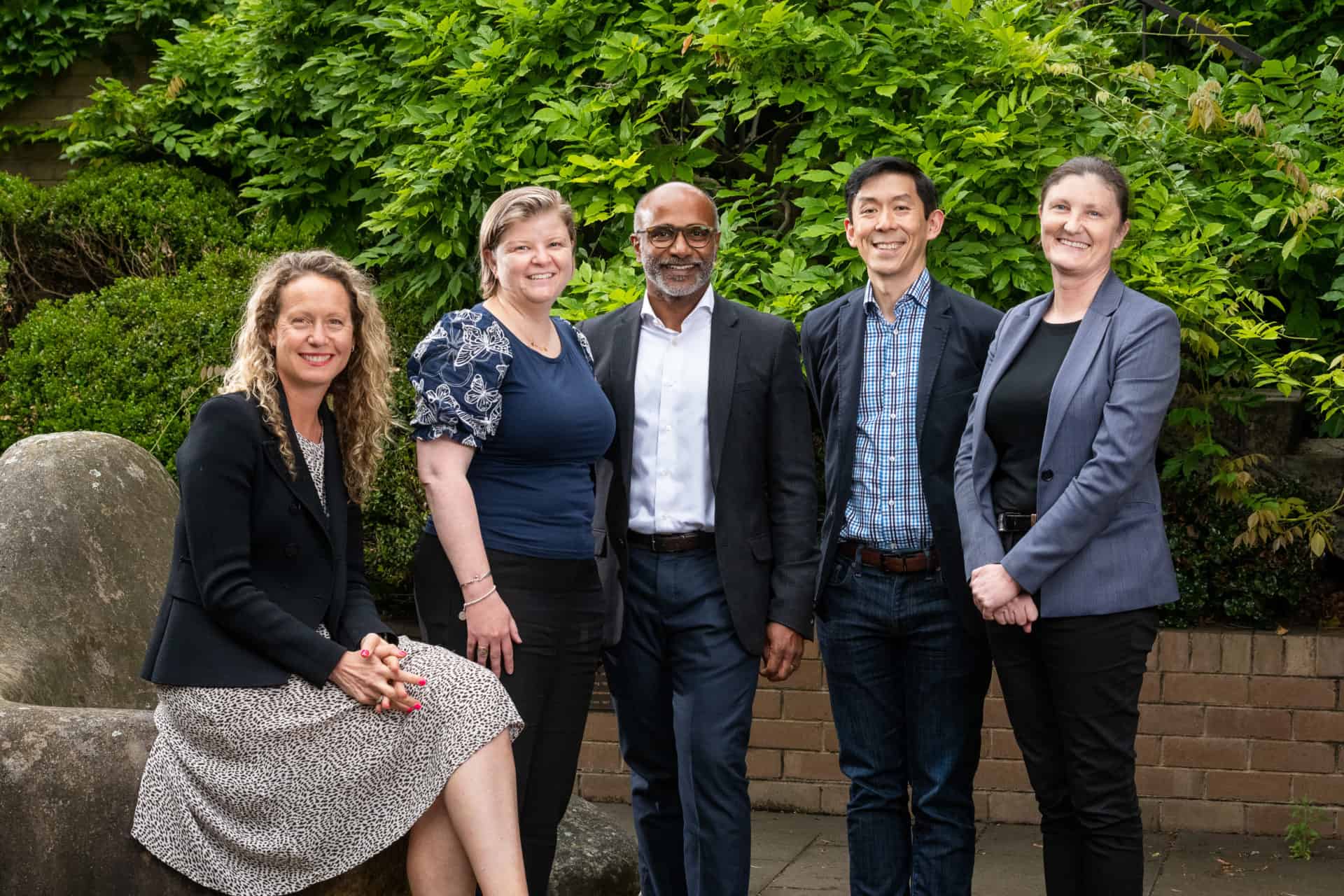 MACH-Track Co-Directors for Doctors
Associate Professor Margie Danchin
MBBS, PhD, FRACP
Group Leader, Vaccine Uptake, Murdoch Children's Research Institute; Paediatrician, Department of General Medicine,The Royal Children's Hospital; A/Prof and David Bickart Clinician Scientist Fellow, Department of Paediatrics and School of Population and Global Health, The University of Melbourne; Director Clinician Scientist pathways, The University of Melbourne Chair, Collaboration on Social Science and Immunisation (COSSI).
Professor Mark Dawson
FAHMS, MBBS, FRACP, FRCPA, PhD
Associate Director for Research Translation; Consultant Haematologist; Program Head, Cancer Biology & Therapeutics; Head, Cancer Epigenetics Laboratory, Peter MacCallum Cancer Centre
Professor Kate Drummond AM
MBBS, MD, FRACS
Neurosurgeon; Director of Neurosurgery, RMH; Head of Central Nervous System Tumours, VCCC, Parkville Precinct
Professor Hui K. Gan
MBBS, PhD, FRACP
Director, Cancer Clinical Trials Unit, Austin Health; Clinical Research Lead and Co-Director, Centre for Research Excellence in Brain Cancer Research, Olivia Newton-John Cancer Research Institute
Associate Professor Jo-Anne Manski-Nankervis
BSc(Hons), MBBS(Hons), CHIA, PhD, FRACGP
Academic General Practitioner and Lead, Data Driven Quality Improvement Research Theme, Department of General Practice, University of Melbourne; Chair, RACGP Expert Committee – Research
Professor Christobel Saunders
AO, MB BS, FRCS, FRACS, FAAHMS
James Stewart Chair of Surgery, Head of the Department of Surgery at the University of Melbourne (Royal Melbourne Hospital precinct), Consultant surgeon in the Department of General Surgery at Royal Melbourne Hospital and the Peter MacCallum Cancer Institute
Associate Professor Jason Tye-Din
MBBS, PhD, FRACP
Head of the Coeliac Research Lab at WEHI
MACH-Track Co-Directors for Nurses, Midwives and Physiotherapists
Professor Marie Gerdtz
RN, BN, A&E Cert, GDAET, PhD
Head of Department of Nursing, Melbourne School of Health Sciences, Faculty of Medicine Dentistry and health Sciences, The University of Melbourne Honorary Nurse Researcher Melbourne Health
Honorary Associate Professor Laura Bignell
RN RM PGDip Advanced Nursing Master Health Admin
Chief Midwifery and Nursing Officer; Director Neonatal Services (Nursing) Royal Women's Hospital
Professor David Berlowitz
BSc, PGDip, PhD
University of Melbourne Chair in Physiotherapy at Austin Health
Please send all MACH-Track enquires to [email protected]
Meet our successful MACH-Track trainees
We will be sharing the latest updates throughout their MACH-Track journey.