MACH TRACK TEST
The MACH-Track program is a structured, mentored and fully funded career development pathway for exceptional research-minded health practitioners pursuing post-registration clinical training or career development in any of the ten health services affiliated to MACH.
The 2023 intake is open to Doctors, Nurses, Midwives, and Physiotherapists
The program seeks to develop the future leaders of clinical innovation by offering an opportunity to integrate pre-PhD, PhD and initial post-PhD research training with completion of vocational training of the highest standard. Bespoke and tailored towards the research direction of each successful candidate, MACH-Track is flexibly designed to adapt to any specialist college-accredited discipline.
"MACH-Track is a new program that allows promising recently-qualified doctors to integrate career development in research, including a PhD, with completion of postgraduate specialist or generalist training. This exciting new scheme is a pilot for medical workforce development that will ensure our nation has the research-active clinical innovators it needs to ensure a healthy future for all Australians."​

Professor Sir John Savill, MACH Executive Director
Meet our successful MACH-Track trainees
We will be sharing the latest updates on their work in our newsletters, on twitter and on our website.
Intake for the 2023 MACH-Track cohort will begin in mid-2022 and run over 5 – 6 years:
Year 1 (2023): Pre-PhD (start year of the program) – 80% clinical (vocational) training / 20% PhD preparation
Years 2 – 4 (2024-2026): PhD scholarship – 80% PhD / 20% clinical role
Year 5 (2027): Post-PhD – 80% clinical (vocational) training / 20% preparation for post-doctoral fellowship application
Years 6 and 6+ (2028+): Same as Year 5 until completion of clinical (vocational) training and, ideally, a post-doctoral fellowship
In total, eight MACH-Track scholarships will be awarded in 2022. Five will be awarded to doctors undertaking training in any AMC recognised specialty including General Practice and Public Health. Three will be awarded to either physiotherapists working towards advanced practice or nurses and midwives at Masters level working towards or at an advanced level of practice. There may be additional opportunities for candidates with a specific interest in brain cancers and Parkinson's Disease.
The following selection of PhD opportunities are provided to give applicants an idea of what to consider during their first year of MACH-Track. There will be a "taster" Year 1 mini-project available for each substantive 3-year PhD project:
Specimen PhD Projects available
Satellite imaging to transform detection of diabetic retinopathy and other retinal vascular diseases
Repair of the cornea to restore vision: Translation to a Surgical Repair Device
Neuronal responses to mitochondrial DNA haplogroups.
Department of General Practice
Utilising technology to optimise the management of heart failure in primary care
The clinical utility of pharmacogenomic testing to inform antidepressant prescribing in primary care.
Investigating the Role of Epigenetics in Multiple Sclerosis
Developing novel therapies to harness the progression of Multiple Sclerosis.
Murdoch Children's Research Institute
Understanding disease mechanisms and outcomes in Australian children with acute stroke using sophisticated blood and neuroimaging biomarkers
Taking placenta to scale: The population burden of disordered placentation and placental function
Early life inflammation in non-communicable childhood disease.
National Ageing Research Institute
A tool for predicting prolonged grief in family carers of people living with dementia
Identifying elder abuse in medical settings
Enhancing 3D (dementia, delirium, depression) care for older people in residential care via micro-learning.
Olivia Newton-John Cancer Research Institute
Strategies to enhance the efficacy of targeted therapies in gastrointestinal cancers
a) Improving tyrosine kinase inhibitors-based therapies for metastatic Her2+ breast cancer
b) Investigating the contribution of matrix/integrin signalling in breast cancer metastasis and therapy resistance
a) Deploying novel technologies to identify resistance mechanisms in patients with haematological malignancies receiving targeted therapies
b) Identifying new strategies for minimum residual disease monitoring to optimise response assessment in myeloid & lymphoid malignancies.
Understanding the behaviour of cancer at single cell resolution
Improving management of infections in cancer
Clinical investigation of the immune response to radiotherapy and immunotherapy.
Translational research into haematological malignancies
Utilising pre-clinical models to discover novel therapies for tuberculosis
Hyposplenism in coeliac disease.
For more information about these specialisations, contact Senior Project Officer– Meredith Bickley
MACH-Track is open to Australian citizens and permanent residents who will be in-post as eligible registered health practitioners in one of the ten MACH-affiliated health services in February 2023. The following groups of practitioners are eligible:
Doctors in any recognised specialty, including General Practice and Public Health, who will be in a vocational training program approved by the relevant Royal/Specialist College as completing requirements for Fellowship. For specialties with two-stage programs (eg physicians) trainees should have secured a place in an advanced training program. General Practice trainees will require sponsorship by the University of Melbourne Department of General Practice.
Physiotherapists working towards senior advanced practice clinical roles.
Nurses and Midwives with a relevant Masters degree and an advanced level of practice (for example, Clinical Nurse/Midwifery Consultant or Nurse Practitioner).
MACH-Track can accommodate practitioners working part-time (0.5FTE or above).
The selection committee will base its assessment on the application form, applicant career aspiration, CV and referee reports.
Applications should be sent by
9am Monday 1st August 2022
to
[email protected]
and must include:
A letter of application no longer than 500 words explaining why the applicant wants to pursue PhD training through the MACH-Track, to include broad areas of research interest;
A) For medical practitioners, brief details of the candidate's vocational training program, with dates and location of each attachment; proposed end date; and details of the relevant College training committee including email contact for the lead College administrator; B) For physiotherapists, nurses & midwives, brief details of the plans to develop advanced practice;
Full CV, to include details of any research experience and how findings were reported or disseminated (e.g. abstract presentation at meeting);
A brief letter of support from an academic referee able to comment on the candidate's potential for completing a PhD;
A brief letter from the candidate's current clinical training supervisor confirming that the candidate is making satisfactory progress in vocational training and stating support for the candidate seeking flexibility in clinical training, if appointed.
For General Practice trainees, a brief note from A/Prof Jo-Anne Manski-Nankervis confirming sponsorship by the University of Melbourne Department of General Practice.
Candidates short-listed for interview will be informed generally at the end of August.
Interviews will likely be held at the end of September ahead of a February start.
To be confirmed for 2023 intake.
Early June: Applications open
1st August: Applications close at 9 AM (AEST)
End August: Invitations sent out to short-listed candidates for interviews
End September: Interviews are conducted
February: Successful applicants to start their MACH-Track journey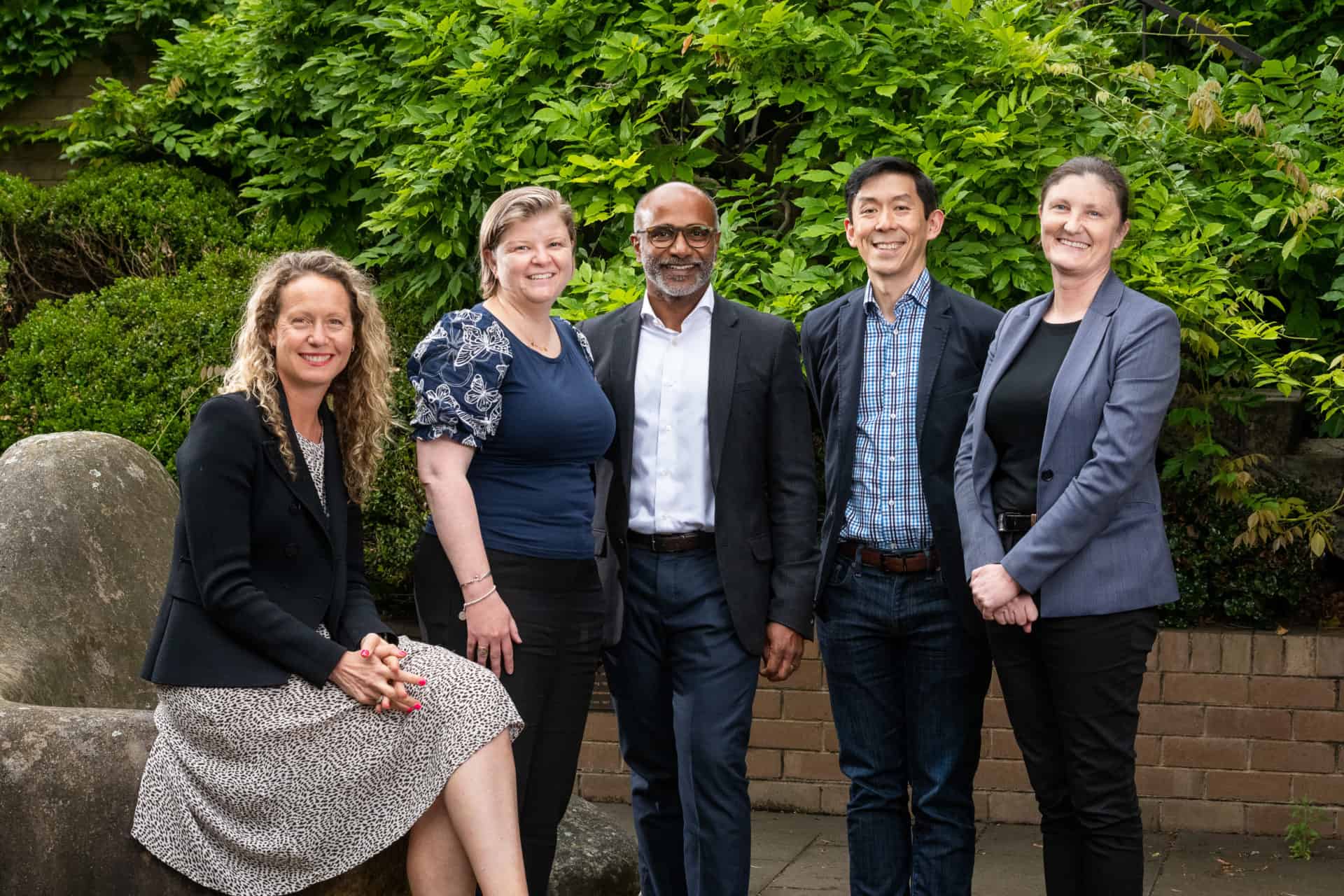 MACH-Track Co-Directors
The MACH-Track Co-Directors are:
Associate Professor Margie Danchin
MBBS PhD FRACP
Group Leader, Vaccine Uptake, Murdoch Children's Research Institute; Paediatrician, Department of General Medicine,The Royal Children's Hospital; A/Prof and David Bickart Clinician Scientist Fellow, Department of Paediatrics and School of Population and Global Health, The University of Melbourne; Director Clinician Scientist pathways, The University of Melbourne Chair, Collaboration on Social Science and Immunisation (COSSI).
Professor Mark Dawson
FAHMS MBBS; FRACP; FRCPA; PhD
Associate Director for Research Translation; Consultant Haematologist; Program Head, Cancer Biology & Therapeutics; Head, Cancer Epigenetics Laboratory, Peter MacCallum Cancer Centre.
Professor Kate Drummond AM
MBBS MD FRACS
Neurosurgeon; Director of Neurosurgery, RMH; Head of Central Nervous System Tumours, VCCC, Parkville Precinct.
Professor Hui K. Gan
MBBS, PhD, FRACP
Director, Cancer Clinical Trials Unit, Austin Health; Clinical Research Lead and Co-Director, Centre for Research Excellence in Brain Cancer Research, Olivia Newton-John Cancer Research Institute.
Associate Professor Jo-Anne Manski-Nankervis
BSc(Hons) MBBS(Hons) CHIA PhD FRACGP
Academic General Practitioner and Lead, Data Driven Quality Improvement Research Theme, Department of General Practice, University of Melbourne; Chair, RACGP Expert Committee – Research.
Please send all MACH-Track enquires to [email protected]